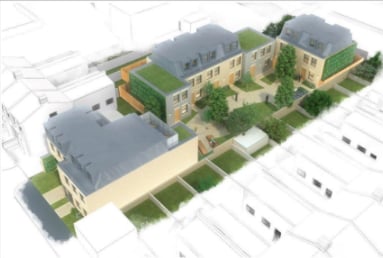 Group custom build opportunity in E13
The reason this caught my eye: This could make a great community for a co-housing scheme – a few houses and some communal space
What's the opportunity:
Planning consent granted for 10 units:
• Two x 4 bedroom townhouses
• Three x 3 bedroom townhouses
• Two x 2 bedroom townhouses
• One x 2 bedroom flat
• One x 3 bedroom duplex flat
• One x 2 bedroom duplex flat
Site area 1042m2 (11,211 sq ft)
How much does it cost: £1,750,000
What would I need to budget: You would need to budget approximately £500 psf. So, a 700 sqft flat would cost about £350k and a 1400 sqft house would cost about £700k
What are the things to watch out for: There's a lot of housing here – so we'd need a large group of people to get excited about this and have a chance of buying it. Otherwise we'd never be able to compete with the standard developers.
Next steps: If you're interested in this opportunity then let us know. If we get enough interest, we will set up a Google Meet and discuss how we might be able to move this forward and how it might work in more detail.